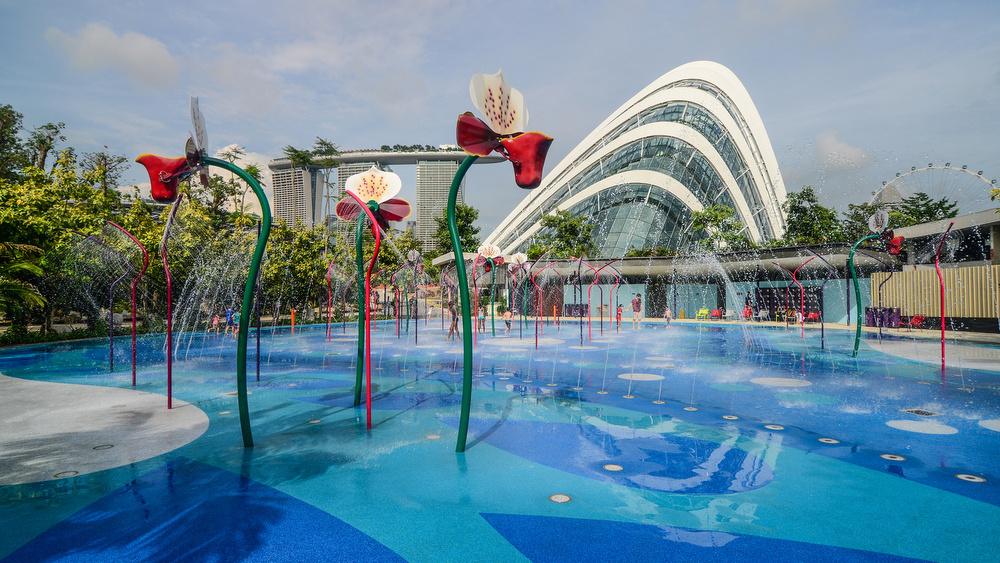 20th Jan 2014
Grant Associates designs creative children's garden at Gardens by the Bay
The new Far East Organization Children's Garden opens at Singapore's Gardens by the Bay on 21 January 2014, designed by Grant Associates – the same UK landscape architects behind the Supertrees and masterplanners of the award-winning Bay South Garden.

A major new feature of the 54 hectare Bay South Garden, the Far East Organization Children's Garden will offer a one-hectare mix of play experiences for all ages, including water play, rainforest tree houses, ridge top trails and topiary pergola arches all in a special garden setting overlooking the Marina Reservoir.

Water Play Experience

The Water Play is the centrepiece of the Far East Organization Children's Garden. Modern water play technology, including Hydro Vaults, Water Splines and orchid-shaped splash buckets, creates an ever-changing interactive landscape of water tunnels, water mounds and waterspouts. For the toddlers, there is the Fish Fountain with fish sculptures for the young to clamber over.

The Treehouses

Two treehouses set within a thicket of rainforest trees including quick growing Ficus brings a sense of adventure and close contact with trees. Elevated platforms and shelters linked by ropewalks, steps, ramps and slides include devices for making sounds, telescopes, climbing nets and hammock seating.

Adventure Trail

The edge of the Far East Organization Children's Garden follows a ridge of elevated ground that overlooks the Kingfisher Lake to the south and the Marina Reservoir to the north. A series of topiary pergola arches echo the parabola arch geometry of the 'Hydro Vaults' in the water play space. Beneath the pergola is a linked series of balancing, clambering, swinging and climbing elements to allow children the opportunity to enjoy a different type of forest trail.

Shade and an Outdoor Amphitheatre

Shade is an important ingredient of the Play Area. A leaf-shaped canopy structure provides shelter from the rain and hot sun reaching over an outdoor amphitheatre formed by stepped granolithic finish concrete benches, which will serve as a venue for different garden functions and events.

Andrew Grant, director, Grant Associates said: "The Far East Organization Children's Garden at Gardens by the Bay will create play opportunities that are not found elsewhere in Singapore that connect children to nature via technology, art and horticulture."

Dr. Kiat W. Tan, CEO, Gardens by the Bay said: "Words cannot express how pleased we are to offer children a special play area in Gardens by the Bay. This Children's Garden is made possible by the strong support of Far East Organization, and cements our commitment to creating a People's Garden with a green legacy for our future generations."

Gardens by the Bay

Since opening in June 2012 Gardens by the Bay has received over 7 million visitors including the Duke and Duchess of Cambridge. The project has been acclaimed worldwide for its remarkable blend of nature, technology, environmental management and imagination and is a showcase of horticulture and garden artistry that brings the world of plants to Singapore and presents Singapore to the World.

Highlights of Bay South include 18 Supertrees (25-50 metre vertical gardens that light up at night); two giant Cooled Conservatories (designed by Wilkinson Eyre Architects), housing Mediterranean and Tropical climate plants; and a rich variety of Horticultural Gardens, designed around the themes 'Plants and People' and 'Plants and Planet'.

Led by Grant Associates the team responsible for the Far East Organization Children's Garden includes PMLink (Project Manager), Langdon & Seah Singapore Pte Ltd (Quantity Surveyor), LPA Inc. (Lighting Consultants), WET Pte Ltd (Irrigation Consultants), Swee Hong (Main Contractor), Play Point Singapore Pte Ltd (Play Equipment), Carve (Treehouses), Howeler & Yoon (Original Concepts for Water Play), CT-Art Creation Pte Ltd (Water Play), Candy Floriculture Pte Ltd (Topiaries Contractor).